Ledbury Carnival
Welcome to the Official Ledbury Carnival website. Here you will find pictures from past carnivals including the 2016 carnival.
Here are pictures from the Ledbury Carnival, which takes place every August Bank Monday. Here are some pictures from the 1998 (Bungee Jumping), 1999 (It's a Knockout), 2000 (The Circus), 2001 (Flower Power), 2002 (Royal Pageant), 2003 (Country Carnival), 2004 (Hollywood Comes to Ledbury), 2005 (Greatest Events in History). 2006 (Music). 2007 (Fairy Tales and Nursery Rhymes), 2008 (Countries of the World), 2009 (TV Carnival). 2010 (Transport and Travel). 2011 (Theatre and Pantomime), 2012 (Great Britain 2012), 2013 (West End Comes to Ledbury). 2014 (40 Years of Ledbury Carnival), 2015 (Step Back in Time), 2016 (Heroes and Villains). The 2017 theme is A Novel Idea.
There are lots of pictures in this section. There are over 550 pages in total!
---
The Theme for 2016 was "Heroes and Villains"
Theme for 2017 is "A Novel Idea"
We will announce the cover design winner on Tuesday 13 June after the winners have been informed
Not all the winners have been informed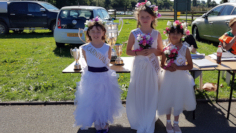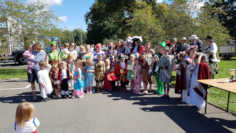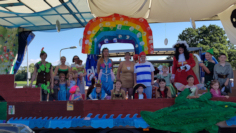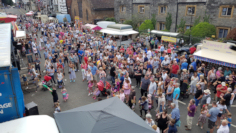 Best overall 2016 winner - A Trip to Neverland : Friends of Ledbury Children's Centre
** Click here for 2016 pictures (all 267 of them over 26 pages) **
Includes all Judging Results
Click here for Programme of Events on the Day if you missed it
2016 Carnival Programme can still be downloaded
Videos from the 2009 to 2016 carnival from the Official Ledbury Carnival You Tube Channel
Click on either 2009, 2010, 2011, 2012, 2013, 2014, 2015, 2016 for the video

2016 Programme Cover
Front Cover was designed by Tilly Wright (Left)
Back cover was designed by Matthew Eckey (Right)
Both from Much Marcle Primary School


The 2017 Carnival Princess and her attendants


The 2017 Carnival Princess is Emily Ryan (middle) age 9
Her attendants are Layla Cricket (Left) Age 9 and Tilly Wright (Right) Age 9
Ages were at the time of judging on Sunday 7 May 2017

Emily is from Ledbury Primary, Layla is from Colwall Primary and Tilly is from Much Marcle Primary

---
The results of the Shop Window competition
Click here for full results and the other winners and entries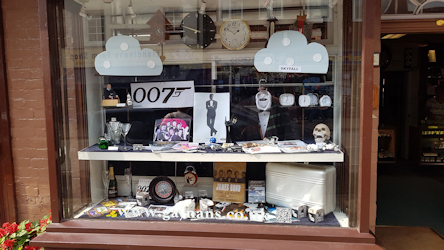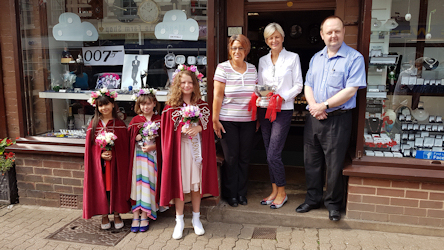 First Prize - Gaynans
Second Prize - Velvet Bean
Third Prize - Bamboo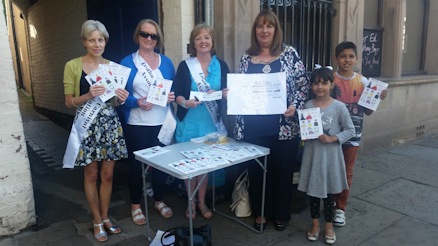 First ticket sold and brought by Debbie Baker
---
I also need your help. If you have any old photos (or even video) from any previous carnival before 1999, please contact me. Any picture used will be built up to a good collection of Carnival Photos and each and every submission used will be credited on this website. Many thanks for the submission so far. There are now several pictures from old carnival including one from 1945. All photos will be returned.
Click on any of the images below
---
2002 - Royal Pageant
2003 - Country Carnival
2004 - Hollywood
2005 - Historic Events
2006 - Music
2007 - Fairy Tales
and Nursery Rhymes
2008 - Countries of the World
2009 - TV Carnival
2010 - Transport and Transport
2011 - Theatre and Pantomime
2012 - Great Britain 2012
2013 - West End comes to Ledbury
Details to come
2014 - 40 Years of
Ledbury Carnival
2015 - Step Back in Time
2016 - Heroes and Villains
2017 - A Novel Idea

Some little gems. Old Carnival Photos : 1945, 1975, 1976, 1977, 1992, 1993, 1997(1), 1997(2)
Thanks for all those who submitted photos. More to come include rare footage from the 1977 carnival
---
For other Ledbury Photos (loads more) and info, please click here for the main index page
The Ledbury Carnival Site is part of the www.myledbury.co.uk group of websites, which includes more pictures of Ledbury including the Fair, Poetry Festival Party, Christmas Lights and many more, including Ledbury on the Television and nothing to do with Ledbury, the Eurovision Song Contest!. Please visit after you have finishing viewing the Ledbury Carnival Website!!!

---
You're Visitor Since 1 December 1996
This Page Last Updated
10 June 2017
To email me, please click here