Ledbury Carnival 2017
---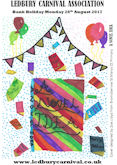 Ledbury Carnival 2017 takes place on Monday 28 August 2017. The 2017 event is the 43rd Ledbury Carnival and my 20th year covering the event. The theme is A Novel Ideal.
Click here for Programme of Events on the Day 2017
Click here for the carnival programme
Carnival Entry form for the procession
Park and Ride is available in the car park opposite the Rugby Club
Photos will appear here by Wednesday 30 August 2017. Last year, it took so long, I needed an extra day to update the site!
For the first time, we will have a 360 degree camera. If it works, it will be on youtube and you can view the Carnival from a virtual headset!

---
You're Visitor Since 1 December 1996
This Page Last Updated
15 July 2017
To email me, please click here